Week 5 & 6 Term 3
From the Principal
This week Townsville Catholic Education held its leadership conferences. Matt Knight attended the APRE cluster on Monday and Tuesday, and I have attended the Principals' conference on Wednesday to Friday. These events are held each term and are an extremely important source of professional development and the primary method of passing important information about current initiatives to the schools. Information presented at the Principals' conference has included analysis of our School Satisfaction Survey results, check-ins on how St Mary's is progressing in our commitment to improving students' writing skills, and training in school leadership.
In Week 5, Mrs Krystal Land led the school in an activity called "Grow a Story". Students from all year levels were invited to co-plan and write a story by visiting the library to read what others had already written and then add to it. The final result was presented at assembly this week. The students did such a great job! Well done Mrs Land and the students of St Mary's!
Once upon a time there was a girl called Millie who worked at Pizza Hut with her managers Abby and Harminey. One stormy morning at 3.00am they went to the lake to deliver some pizza. The order was to be delivered to Wised who was the new wizard in town. As they walked down to the tree, they heard a crack. "It's a baby dragon egg, I want it. Help me take it to the car Harminey" said Millie and off they went.
"Look out!" said Abby. Out of nowhere Wised appeared on a flying dragon which was wearing a Domino's shirt and stole the egg from the girls. Wised flew off on the dragon and stole the egg. Millie was devastated but she did not know that on the way back to the dragon's home the egg cracked. Lilly, a blue and purple dragon hatched out of the egg and cast a spell on Wised.
"Abracadabra, I turn you into a pizza," said Lilly as she pointed her ears at Wised, and a meat lover's pizza appeared. "Yes!" cried Millie. "Abracadabra, take me back to the lake," yelled Lilly and, bam, she was at the lake. When Lilly got to the lake she asked Abby if she could have a job making pizzas at Pizza Hut. It was the only Pizza Hut in the world that had a dragon that could make pizza. Lilly, Abby, Harminey and Millie lived happily ever after and had the best pizza shop in town.
With Book Week just around the corner, we are getting excited for our 2022 Book Week Parade. Students are invited to come dressed as their favourite character from any book that they choose. We will be celebrating with a parade in the Undercover Area at 9am on Friday, 26 August, and hope that you are able to stay and enjoy the parade.
Alicia Ninnes
Published on: 09 Aug 2022
Religious Life of the School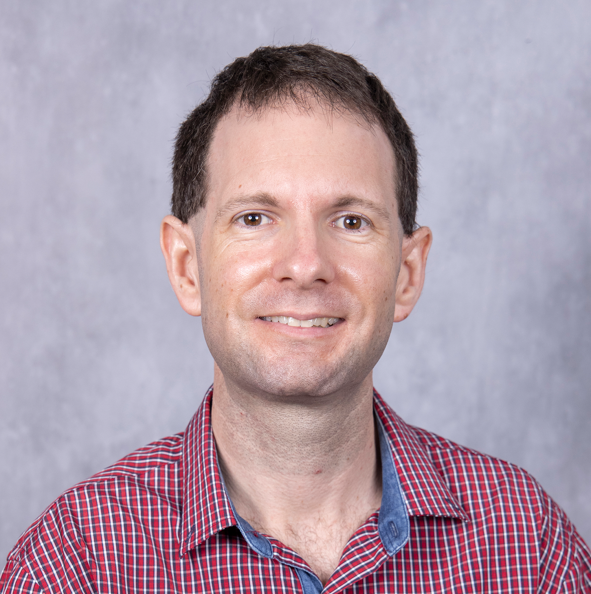 Feast of Mary Mackillop Christian Meditation
On Friday Mrs Windridge and her Year 5 class led our school in Christian Meditation. The focus was on Australia's first saint, Mary MacKillop. Mary possessed many important qualities. Some of these included honesty, determination, and above all generosity. Mary was an Australian nun who founded the Sisters of St Joseph with Father Woods in 1866. Together they established many schools all over Australia (including St Mary's Bowen in 1873) for children in need. Mary wanted to help children most of all, especially those who were poor and not able to go to school.
Father Sibi has been busy visiting classrooms and talking about their Religion work. It's been great to hear the many questions and accepting nature in which these conversations have taken place. Year 1 have been learning about Jesus and his disciples. Year 4 students have been busy studying the parable of the Good Samaritan. This challenges us as human beings to accept and love everyone as they are. Thank you to Mrs Menzies and Year 2 for celebrating parish mass with us today.

Finally, a BIG THANK YOU to Mrs Ninnes who ran Family Mass in my absence last Sunday. The feedback received indicated it was a lovely celebration, and the students represented St Mary's with pride. Our next big ticket item is the Father's Day Liturgy. All are welcome to attend a short liturgy on Thursday 1st September at 9:00am.
Matthew Knight
Feast of Mary Mackillop Christian Meditation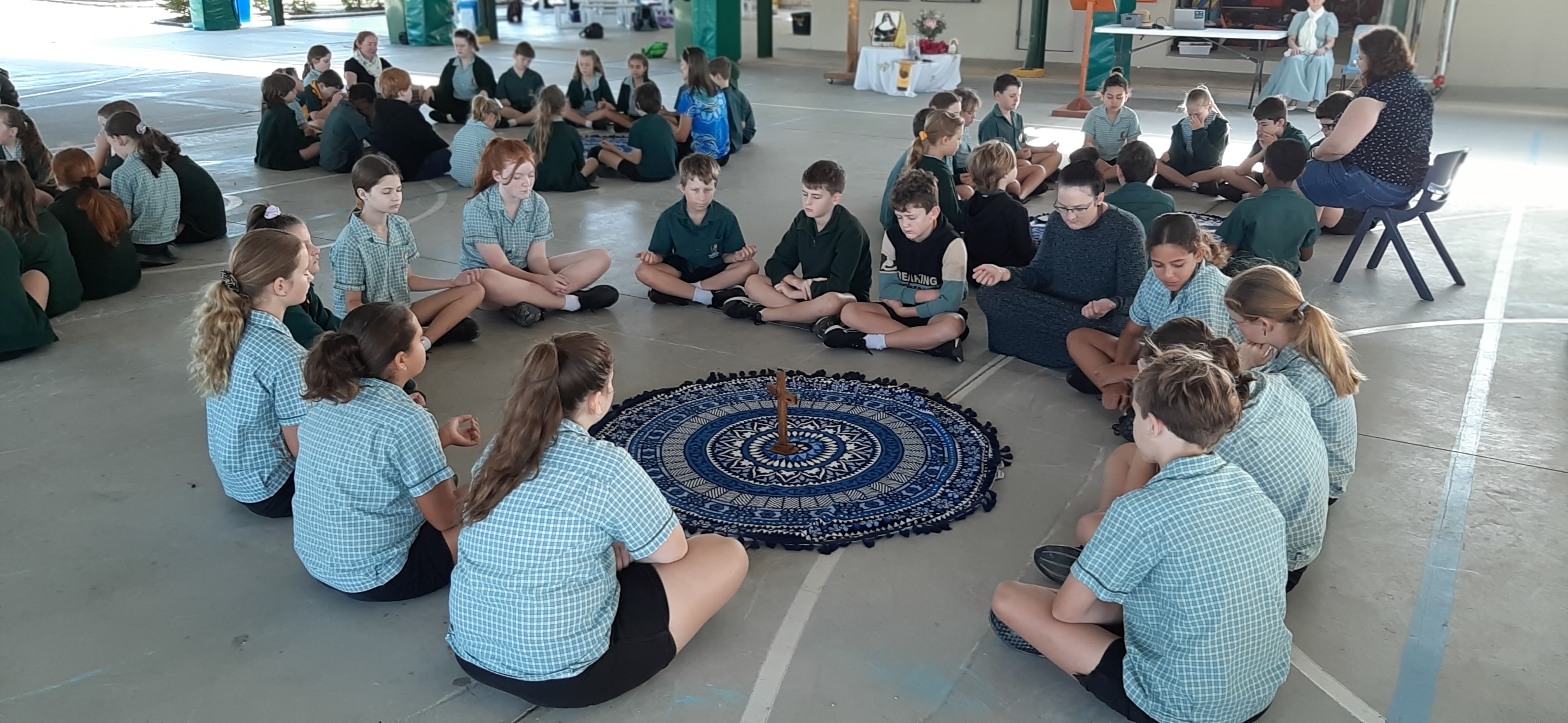 Prev
Showing images
1 - 8
of 10
Next
Published on: 09 Aug 2022
Book Week
Each year since 1945 the CBCA has brought children and books together across Australia through CBCA Book Week. During this time schools and public libraries spend one glorious week celebrating books and Australian children's authors and illustrators. Classroom teachers, teacher librarians and public librarians create colourful displays, develop activities, run competitions and tell stories relating to a theme to highlight the importance of reading.
To celebrate this wonderful event St Mary's will be holding a Book Week Parade on Friday 26th August at 9am in the Big Shed. Students can dress as their favourite book character and show us their moves as they dance their way through the parade. The students have also been working very hard on costume designs, book reviews or author studies, depending on their class. These will be displayed in the library and a winner will be announced at our Book Week Parade on Friday 26th August.

We can't wait to see you all there!
Published on: 19 Aug 2022
Prep Open Day
Published on: 19 Aug 2022
From the Guidance Counsellor
In this edition of SchoolTV - MINDFULNESS
Evidence based research has found that there are many benefits to mindfulness which has prompted schools across the nation to implement this practice into their daily routines. This is one of my favourite topics ☺
Mindfulness can be described as attention training for your brain, enabling you to focus on something without judgement and to stimulate curiosity. Mindfulness can be practised in a number of ways and is something that can be done by everyone - no matter what your age!
Mindfulness helps improve memory, engagement and performance. Its positive effect on the brain can improve immunity, mental wellbeing, learning ability, emotional health and even, time management. It is especially important in this era of information overload as our attention is constantly being pulled in many directions making us more distracted.
In this edition of SchoolTV, parents can learn the best way to introduce this mindfulness to their children, implementing into their daily lives to have an overall positive impact on family relationships.
We hope you take time to reflect on the information offered in this edition of SchoolTV and we always welcome your feedback. If you have any concerns about your child, please contact the school guidance counsellor for further information or seek medical or professional help.
Here is the link to the Mindfulness edition of SchoolTV
https://smbtsv.catholic.schooltv.me/newsletter/mindfulness
Published on: 09 Aug 2022
Award Winners - Week 4
On Monday, our weekly awards were presented to students following Mary's Way by showing "S": Show Respect.
Mary's Way Award Winners:
Back row: Bailee-Maree Tapp, Ahkeem Byers, Kobi Buckley, Douglas Moxham
Front row : Andrew Firth, Saoirse Gentle, Collins Nowlan, Lachlan Foster
Star Reader: Ostin McMahon
Praise Note Winner of the Week: Graisen Fogarty
Published on: 09 Aug 2022
Award Winners - Week 5
On Monday, our weekly awards were presented to students following Mary's Way by showing "M": Mercy and Outreach.
Mary's Way Award Winners:
Back row: Dwyatt Schultz, Ryan Guy, Imogen Browning, Matilda Smith
Front row : Alisha Kirk, Lazariah Prior, Grace Veth, Jaxon Lowcock
Star Reader: Arthur Watson
Praise Note Winner of the Week: Wynter McMahon
Published on: 09 Aug 2022
Youth Group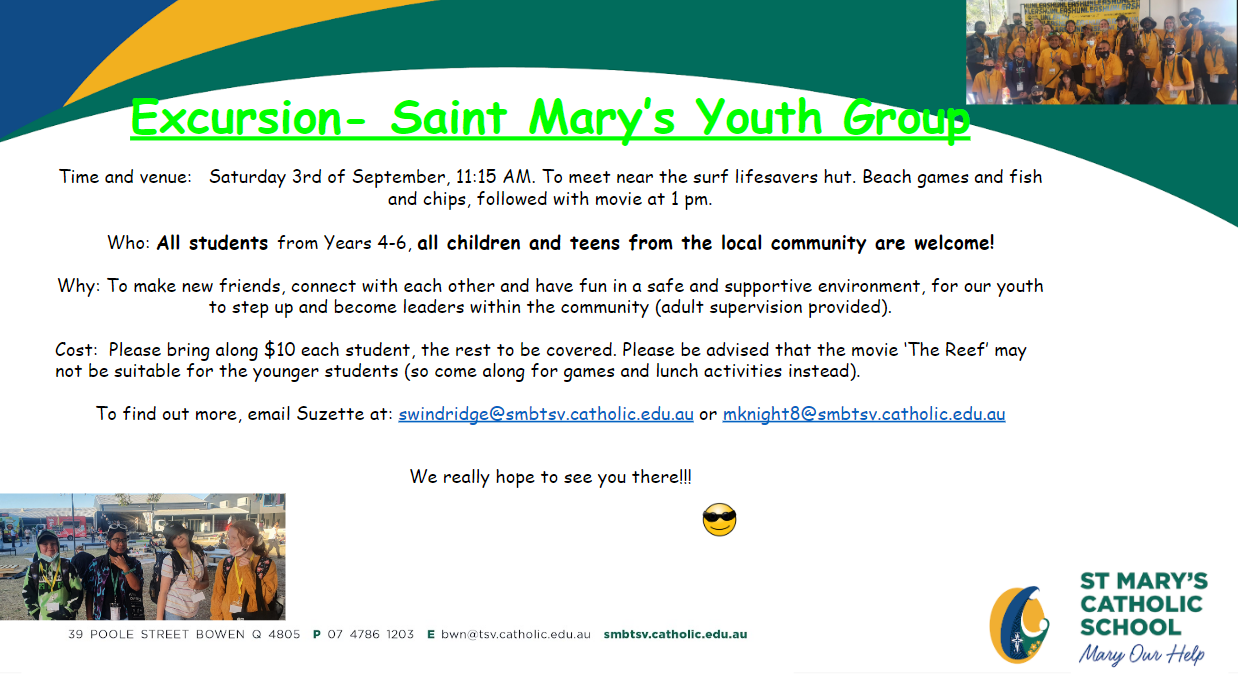 The Saint Mary's Youth Group will be holding its first excursion on Saturday, 3 September.
All students from Years 4 to 6, including students who do not attend St Mary's School, are welcome to attend for fun beach games and fish and chips. The event will finish with a trip to the movies.
Published on: 19 Aug 2022
Ignite Conference 2022
Experience four days of real-world formation, explosive rallies, powerful sacraments and inspiring workshops. This event is open to Year 6 and high school students.
Attached are the details and trailer for the year.
Ignite Conference 2022
Travel Dates: 21 - 27 September
Conference: 22- 25 September 2022
Accommodation: St Lawrence College, South Brisbane
Cost: Event $1200 – Rego ($275), Flights ($400.00), Food and Transport ($150) & Spending (Min $200)
For more information please contact 0472 576 468, (07) 4726 3263 or email youth@tsv.catholic.org.au!
Registration of Interest Form: https://forms.gle/9HJyZZwusRD4poP36
Published on: 09 Aug 2022
Indigenous News
On Monday the 9th of August was International Day of World's Indigenous Peoples. Our Kapok Crafters watched a Video on countries of the world, we then made puppets of people from all around the world in traditional dress and non traditional dress.
Deadly Learners: Harley is working hard on initial sounds and spelling maze. Keep up the great work Harley!
Published on: 09 Aug 2022
Pupil Free Day - Friday 2 September 2022
Friday 2 September 2022 is a Student Free day.
Please note : This will include our Pre Prep Program. Pre Prep will resume on the 9th September.
Published on: 09 Aug 2022
OSHC - PUPIL FREE DAY
OSHC will be open from 6.30am – 6pm
Your children are welcome to bring their own bike, scooter or skates if they wish but please provide shoes and helmet.
OSHC will provide all food for the day, and we will be having a Teddy bears picnic lunch (bring Teddy for lunch) We also will have Father's Day craft activities.
The fee will be $58 for the day.
We only have 30 places available so please book early.
Any questions please call Robin 0428 216 062
Published on: 19 Aug 2022
Hot Chips Fundraiser
Thank you to everyone for your overwhelming support of the Year 6 Graduation fundraiser.
The students all seemed to enjoy their hot chips very much!
Published on: 09 Aug 2022
Birthdays
Click the below link for a special Happy Birthday Song.
Published on: 09 Aug 2022
Tuckshop and Lunchboxes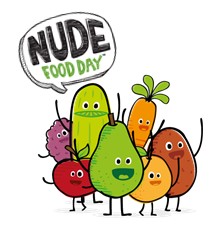 A reminder that Nude Food Fridays continue this term. We are encouraging students to minimize single-use plastic on Fridays to protect our oceans. Use those reusable containers as much as you can! Our Containers 4 Change program is still going so please remember to put your poppers, plastic bottles, and other suitable containers in the blue bins. All money raised through the Pilchers Containers program will be donated to the EcoBarge Volunteer and Turtle Rehabilitation program in the Whitsundays
Tuckshop - TERM 3
Please be advised our Tuckshop days have recently changed from Mondays and Wednesdays to Wednesdays and Fridays.
Published on: 09 Aug 2022
Mary Mackillop OSHC
OSHC at St Mary's Catholic School is now operating Monday to Friday from 6.30 am to 8.30 am and 2.45 pm to 6.00 pm.
If you would like more information or to register, please contact Miss Rob on 0428 216 062 OR at bowenoshc@mmcnq.catholic.edu.au
Published on: 09 Aug 2022
Community
Published on: 09 Aug 2022